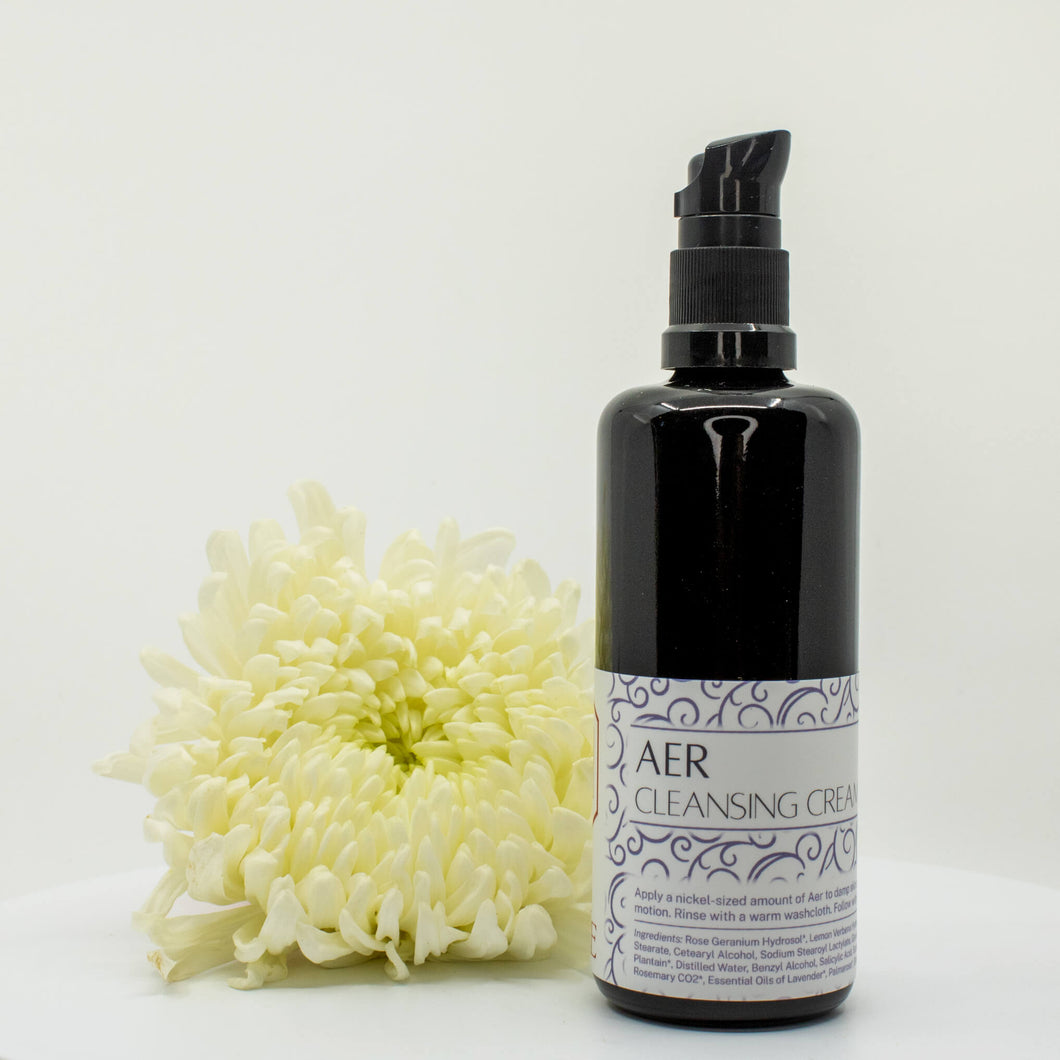 Aer | Cleansing Cream - Limited Edition
Regular price $48.00 Sale
This creamy, Summer-y cleanser is made with cooling whole plants, and is slightly thicker and even more hydrating than Sanctum with the addition of gluten-free Colloidal Oat. This slow beauty skincare ritual will refresh your skin and calm your spirit.
Rather than strip your skin of its natural oils and microbiome, Aer Cleansing Cream hydrates, nourishes, and moisturizes your skin to support its lipid barrier. This balanced blend of copper-distilled hydrosols and raw, unrefined plant oils leave your skin feeling soft and refreshed.
ABOUT THE INGREDIENTS:
Rose Geranium & Lemon Verbena Hydrosols balance your skin's oil production and uplift your mood. As a humectant, Rose Geranium rehydrates your skin in the heat of Summer, drawing water and binding it to the skin.

Rich in antioxidants, Vitamins A & C, and other minerals, Hibiscus has been dubbed "nature's botox" as it firms and gently exfoliates skin. Its high mucilage content hydrates and cleanses while providing nutrients, quickly revitalizing dull, dry skin for a dewy, glowing complexion.

As an inflammation modulator, Plantain works with your body to calm and soothe your skin from sun exposure or other inflammatory skin conditions like acne or eczema.

Colloidal Oat hydrates, binding moisture to the skin, and gently exfoliates while balancing your skin's pH to preserve the delicate acid mantle and microbiome of the skin, leaving your skin vibrant.

A blend of Lavender, Palmarosa, Vetiver, Elemi, and Chamomile essential oils calm your skin and bring peace to your soul.
100mL†

Formulated for: 
All Skin Types
Dry Skin
Dehydrated Skin
Sun-kissed Skin
Gracefully-aging Skin
Ingredients: Rose Geranium Hydrosol*, Lemon Verbena Hydrosol*, Sunflower Oil*, Hemp Seed Oil, Glyceryl Stearate, Cetearyl Alcohol, Sodium Stearoyl Lactylate, Glycerin*, Whole Plant Extracts of Hibiscus* and Plantain*, Distilled Water, Benzyl Alcohol, Salicylic Acid, Sorbic Acid, Colloidal Oat*, Xanthan Gum, Rosemary CO2*, Essential Oils of Lavender*, Palmarosa*, Elemi, Vetiver*, and Chamomile.
*Certified Organic
To use:
Apply a nickel-sized amount of Aer to damp skin and gently massage in a circular motion. Rinse with a warm washcloth. Follow with a hydrosol or tonic and serum.

What are Glyceryl Stearate, Cetearyl Alcohol, and Sodium Stearoyl Lactylate?
These three ingredients together form a natural emulsifier approved by ECOCERT for use in non-GMO, organic products.
What are Benzyl Alcohol, Salicylic Acid, Glycerin, Sorbic Acid?
These four ingredients form a natural preservative approved by ECOCERT and COSMOS for use in non-GMO, organic products.
†Product is filled to 100mL by volume.