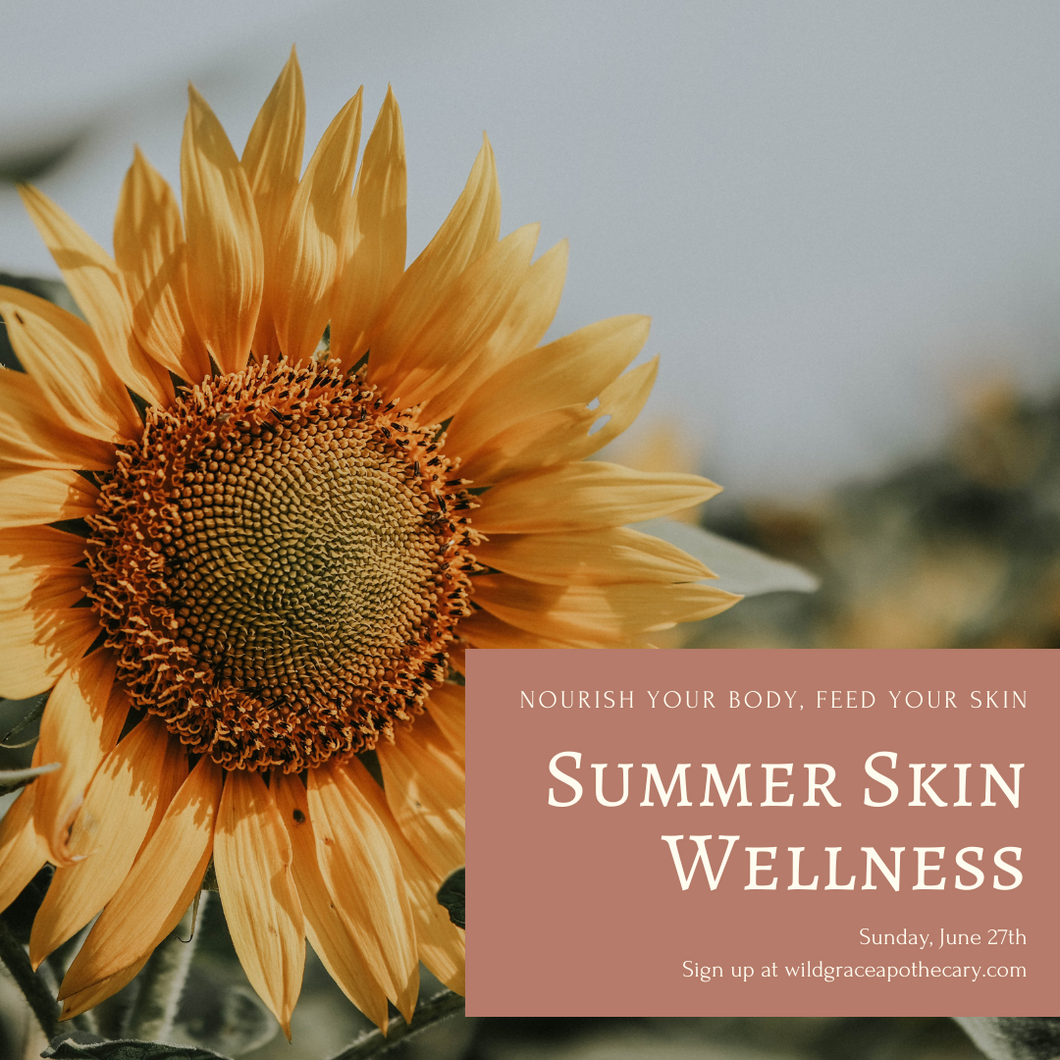 Summer Skin Wellness
Regular price $33.00 Sale
Join us for this special deep-dive into seasonal skin wellness and magic! In this class, Maya of Washizu Body Wellness and Katie of Wild Grace will guide you into understanding truly holistic skin care for the summer season, dipping our toes into the energetics of western herbs through the lens of eastern medicine, as well as seasonally-inspired embodiment practices.

Students will be introduced to the elemental energetics of Summer, herbs and foods that support your body and skin's natural processes during the season, and the primary meridians and acupressure points to work with to enhance your skin's innate glow. You'll explore and practice unique methods of facial massage as well as meditation with the Summer seasonal energetic landscape in mind. This class will close with learning to use herbs and food as medicine to support your skin's health during the season of elemental Fire.

This is a LIVE virtual class. A recording will be emailed to you after class that you can re-watch for 2 weeks! We will send more details shortly before the class.
DETAILS:
NOTE:

This is a live workshop, with a recording available for 2 weeks sent out to all registered participants.
We use Zoom for online workshops - please have the app downloaded if using a phone.
Enrollment is accepted up until the day of the event.
All participants are responsible for sourcing their own materials for this workshop.
Technical difficulties on the attendees end (sound issues, tardiness, wifi connection, video cut out, etc) do not entitle attendees to a refund. We recommend signing on 10 minutes early to sort out any issues.
Wild Grace does not offer guidance around computer or Zoom usage, though we do send out a link including instructions on how to use Zoom 24 hours prior to all workshops.
Please honor the privacy of others - what is said and shared in a workshop space is not meant to share outside of the workshop except for what instructors give permission to share.
Questions? Email us at katie@wildgrace.me