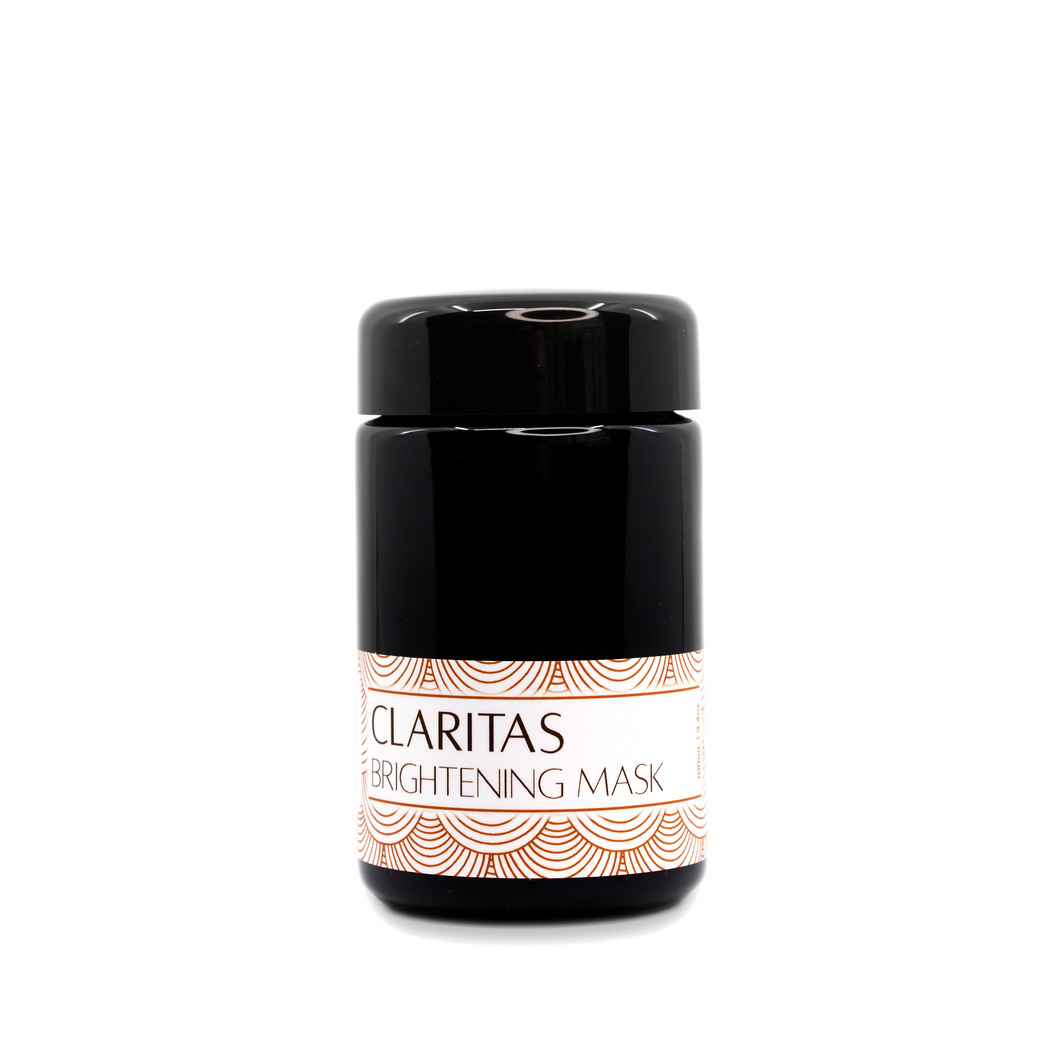 Claritas | Brightening Mask
Regular price $48.00 Sale
New Size! Moving from 60ml to 100ml.
Claritas bursts with Vitamins A and C as well as enzymes, amino acids, and fruit acids to lighten hyperpigmentation and brighten skin. Its phytonutrient density works to repair damage on a cellular level while it strengthens connective tissue, firms skin tone, and supports your skin's microbiome. The concentrated vibrancy of this mask is truly unmatched and benefits are seen after as little as one use.

This brightening mask is one where the vitalist nature of whole plant skincare really shines. While there is no question that Vitamin C is of benefit to skin health, we now know that it is even more powerful when accompanied by bioflavonoids and other antioxidants. In nature, these antioxidants are only found together, not as single compounds or extracts, therefore they are all found in perfect synergy in this mask as whole plants.
In addition to this potency of the Vitamin C dense Camu Camu in this mask, the other herbs, roots, and resins also stand out for promoting circulation, calming inflammation, and repairing skin damage. Tulsi to soothe blemishing and calm inflammation, Licorice root to improve skin tone and discoloration, Comfrey to hydrate and repair connective tissue, Pearl to reduce the appearance of pore size and brighten hyper-pigmentation.
If you had been using our Pumpkin Enzyme Illuminating Mask, your skin will love Claritas.
100ml | 20 masks
Formulated for:
Dry & Dull Skin
Oily Skin
Sun Damage
Hyperpigmentation
Blemish-Prone Skin
Congested Skin

Ingredients: Rhassoul Clay, Camu Camu*, Licorice Root*, Rosehips*, Raw Pumpkin, Shiso Leaf, Gotu Kola*, Tulsi*, Comfrey Leaf*, Turmeric*, Pearl Powder, Frankincense Resin*.
*Certified Organic
To Use: 
Mix 1-2 tsp. of Claritas with warm water or hydrosol to make a thin paste, allow it to steep for 10 minutes. Apply to your skin and leave on for 8-10 minutes keeping the mask moist by misting with a hydrosol. Wash off with warm water and follow with a hydrosol or tonic and serum.