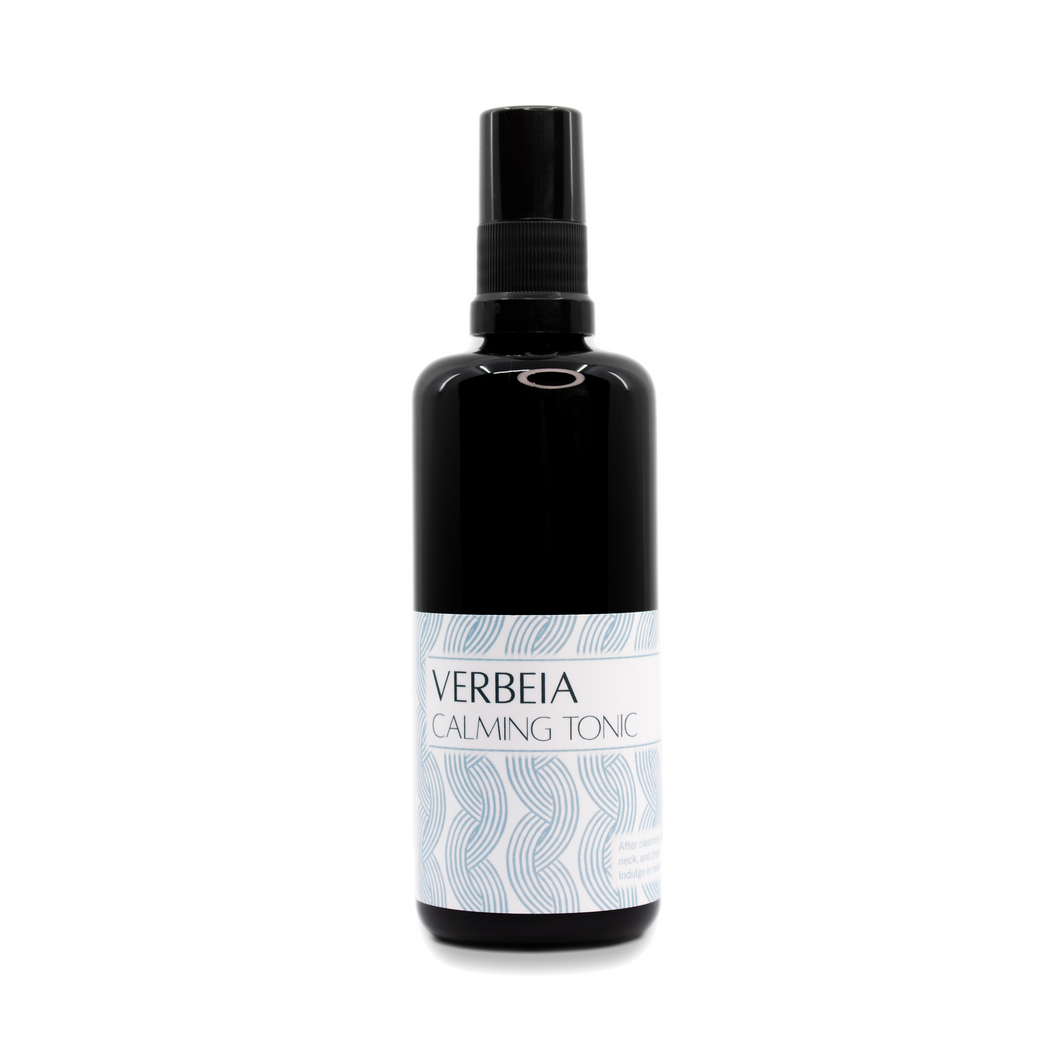 Verbeia Calming Tonic
Regular price $42.00 Sale
Verbeia offers relief from acne-prone, inflamed, and reactive skin with its cooling and soothing properties that will leave your skin feeling at peace.

Whole plant extracts of Burdock, Echinacea, Plantain, Chamomile, and Fennel nourish and balance your skin while hydrosols of Rose Geranium, Neroli, Lemon Thyme, and Lemon Verbena tone, hydrate, and calm inflammation.
Verbeia is named for the Celtic-Roman goddess of a river on the British moors. In Celtic cultures, rivers were often deified and believed to offer healing powers. This tonic feels like an afternoon spent under the shade of a sprawling oak tree next to an ancient river. With its citrus and delicately floral scent, it calms "hot" emotions while refreshing and uplifting the spirit.
100ml
Formulated For:
Oily Skin
Acneic Skin
Congested Skin
Combination Skin
Red + Itchy Skin
Acne triggered by stress + hormones

Ingredients: Rose Geranium Hydrosol*, Lemon Thyme Hydrosol*, Neroli Hydrosol*, Lemon Verbena Hydrosol*, Glycerin & Water & Sodium Levulinate & Sodium Anisate, Glycerin*, Whole Plant Extracts of Burdock Root*, Chamomile*, Echinacea Root*, Plantain*, and Fennel*  Essential Oils of Lavender*, Petitgrain*, Grapefruit, Chamomile, St. John's Wort Flower Essence.
*Certified Organic
To use:
After cleansing, mist Verbeia over your face, neck, and chest. Follow with a serum or balm. Indulge in mists of tonic as the heart desires.
What are Glycerin & Water & Sodium Levulinate & Sodium Anisate?
These four ingredients form a natural preservative approved by ECOCERT and COSMOS for use in non-GMO, organic products.